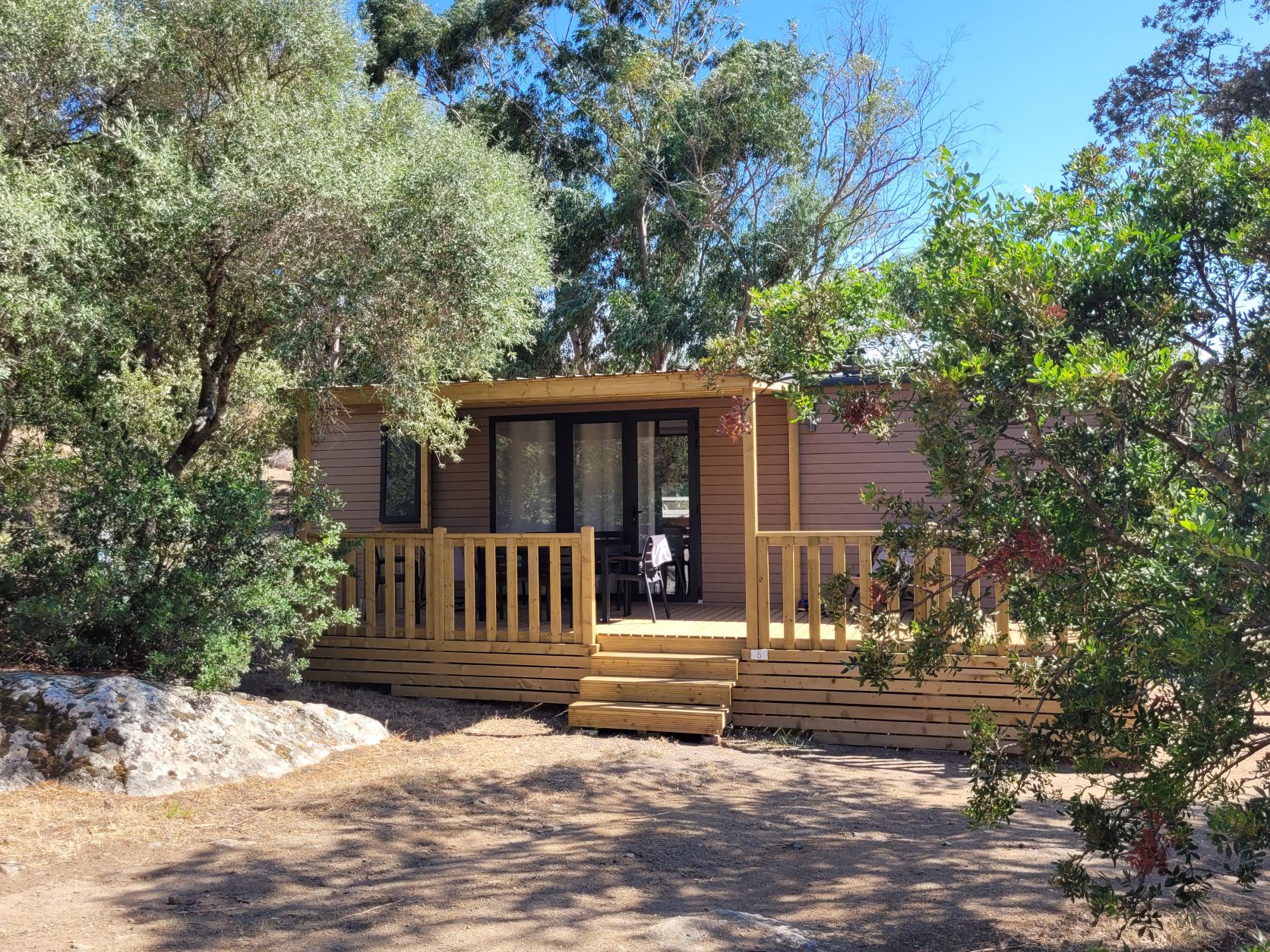 Air conditioning
Great comfort
Fully equipped
Mobile home rental in Haute-Corse
New mobile homes for rent in our campsite in North Corsica
Our campsite in the Balagne region offers comfortable mobile homes for rent for your accommodation in Northern Corsica. Each of our 51 mobile homes (including 1 for people with reduced mobility) can fully accommodate your family by sleeping 2 to 6 people. In the double bedroom, all our beds are 160 x 200 (except on the mobile homes Saint Florent – 2 comfortable rooms). With a shaded terrace and garden furniture overlooking the surrounding nature, our mobile homes will enchant you with their practicality and quality. You can choose mobile homes according to your sleeping arrangements as well as the choice of one or two bathrooms. We offer all our rentals in a high end version.
All our mobile home rentals in Haute-Corse are equipped with air-conditioning (free for 10 hours a day, extra charge for more), a dishwasher (except high comfort range), blackout blinds and top of the range Bultex mattresses. For your stay in one of our Corsican mobile homes, a covered terrace and a large fridge freezer are included in our rentals. The mobile homes available for rent are situated in a green setting, close to the sea, and are relatively far from each other to create a real little cocoon.
Our mobile homes are brand new accommodations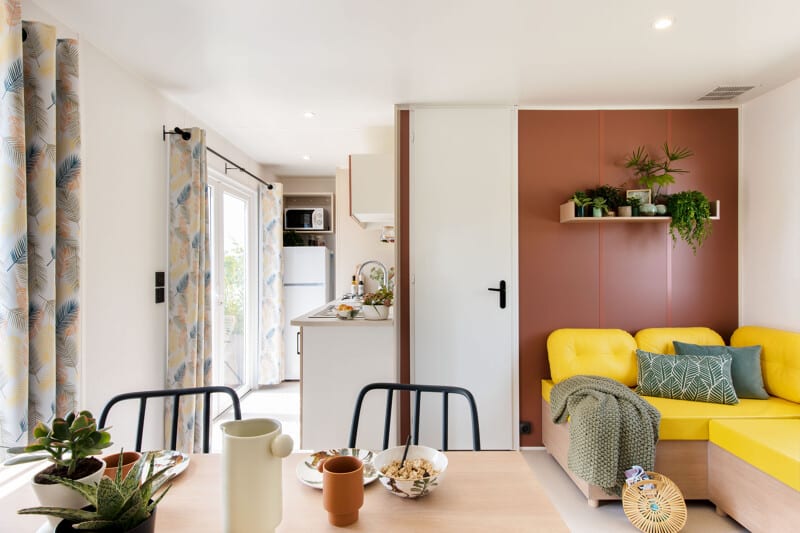 GRAND CONFORT RANGE
6 | 3 | 1
Smaller, more compact, with 3 bedrooms, this model will seduce you with its kitchen with direct access to the outside, but also its low price. Great for small budgets!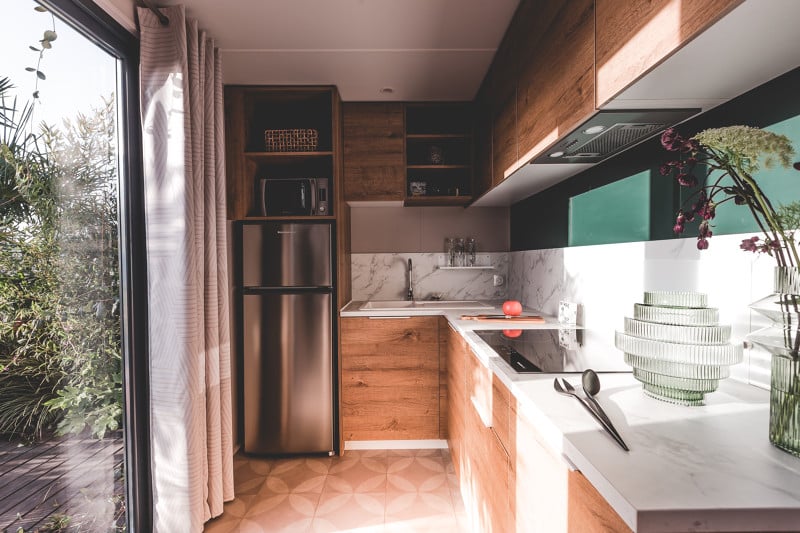 PRESTIGE RANGE
4 | 2 | 1
Mobile home O'hara: is ultra-luminous thanks to its large windows and its open kitchen on the terrace. It offers beautiful spaces at the level of the living room and the bathroom, you will be seduced by its modern design.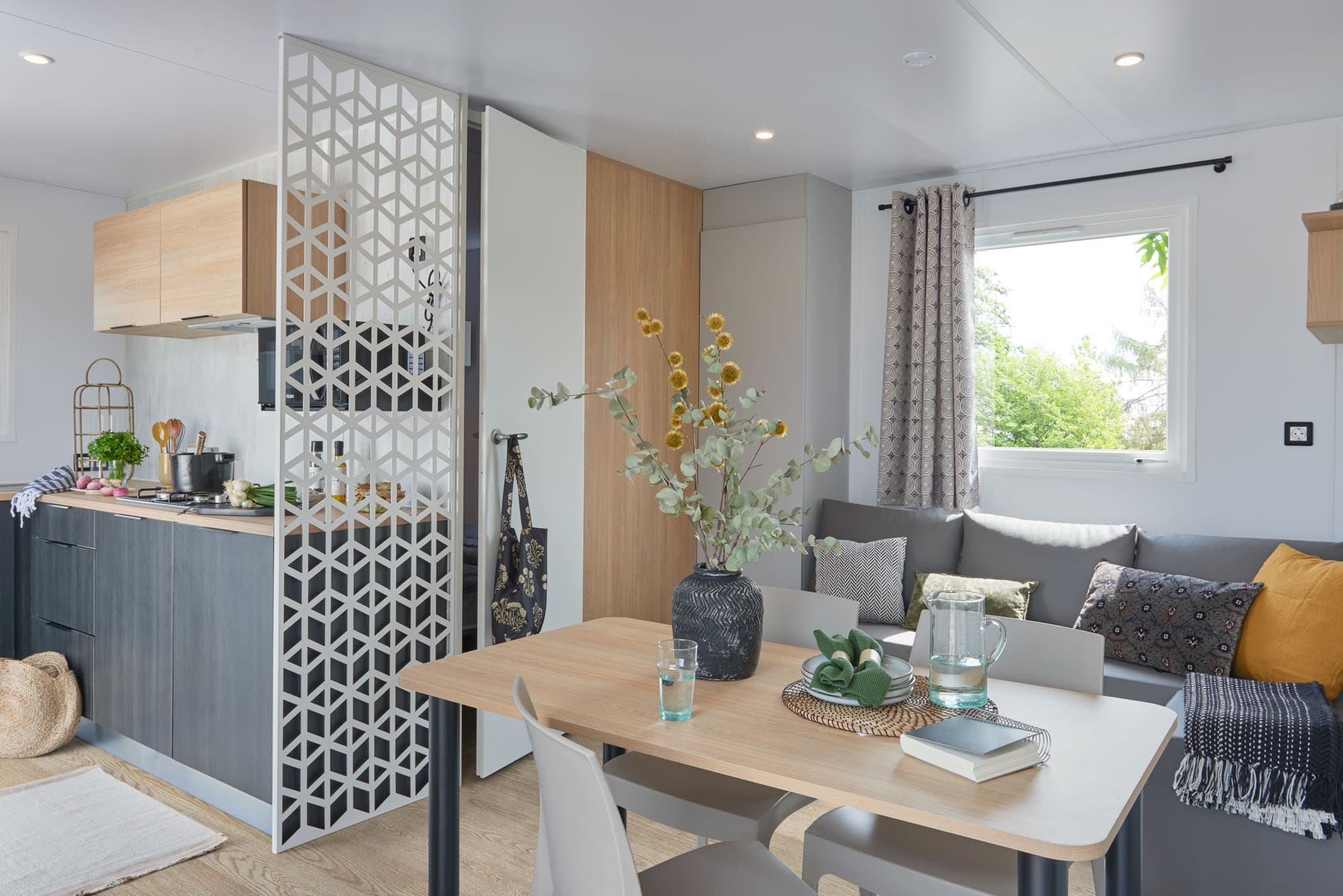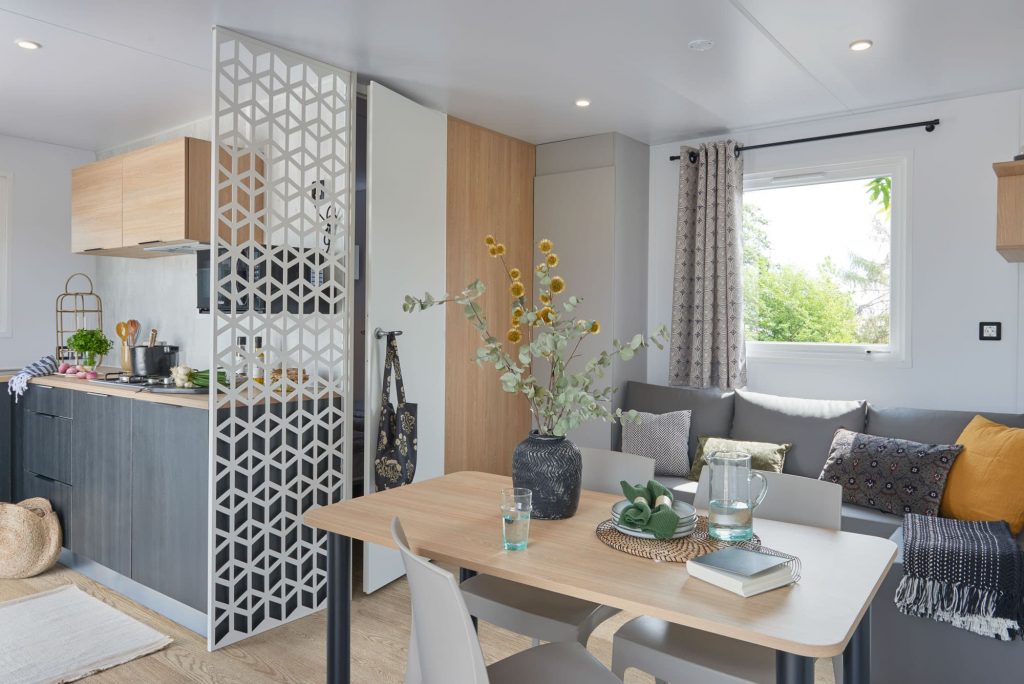 PRESTIGE RANGE
4 | 2 | 1
Mobil-home Louisiane: A new model in 2023, identical to the MH o'hara with a modern design, with its kitchen in direct access to the terrace.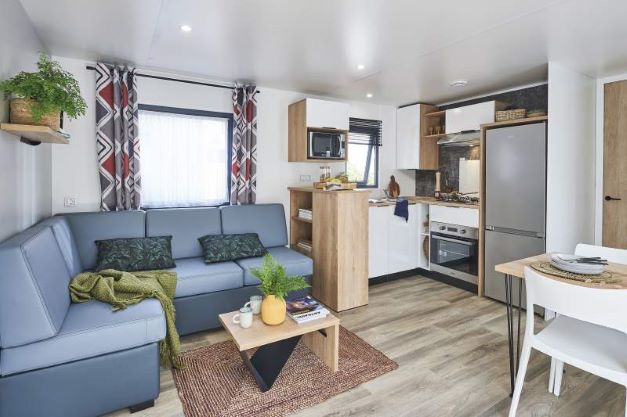 PRESTIGE RANGE
4 | 2 | 1
Mobil-home Rapidom : A range which knows how to differentiate itself from the 2 other models, by its top-of-the-range installation, its surface but also by its external look.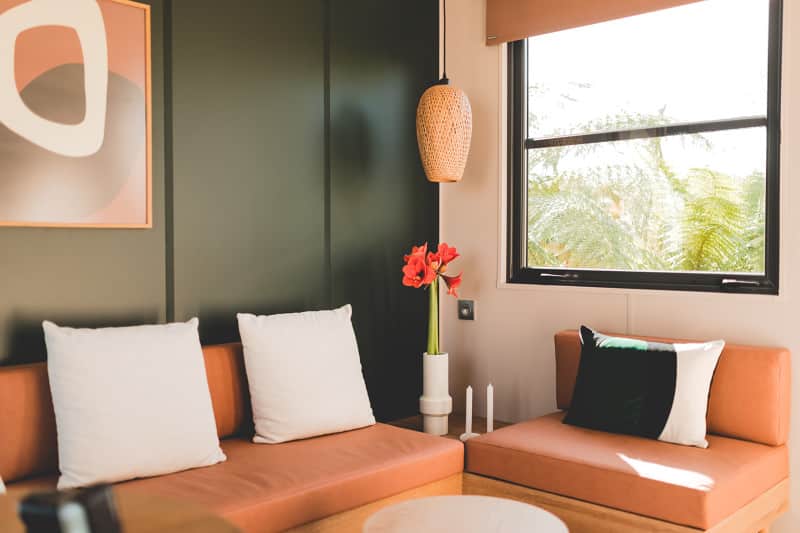 PRESTIGE RANGE
6 | 3 | 1
The 3-bedroom model offers 3 distinct living spaces: a modular living room with its design table, a cosy lounge and an ultra-equipped kitchen to delight young and old alike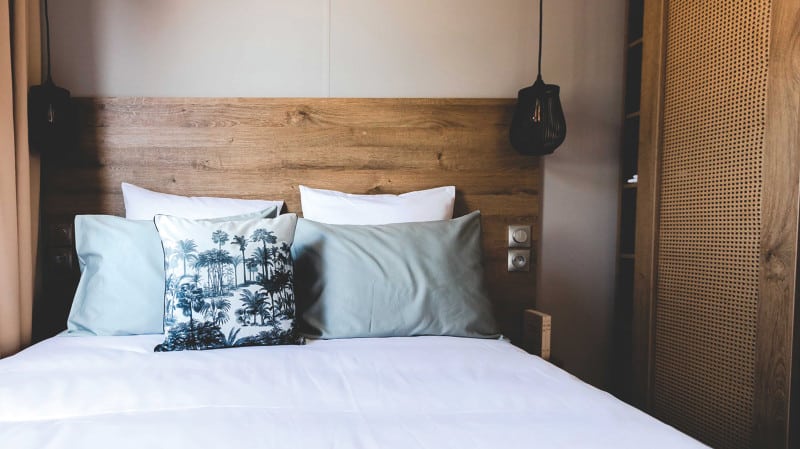 PREMIUM RANGE
4 | 2 | 2
2 parental suites, the living room in the middle allows a separation between the two bedrooms and privacy for families or friends!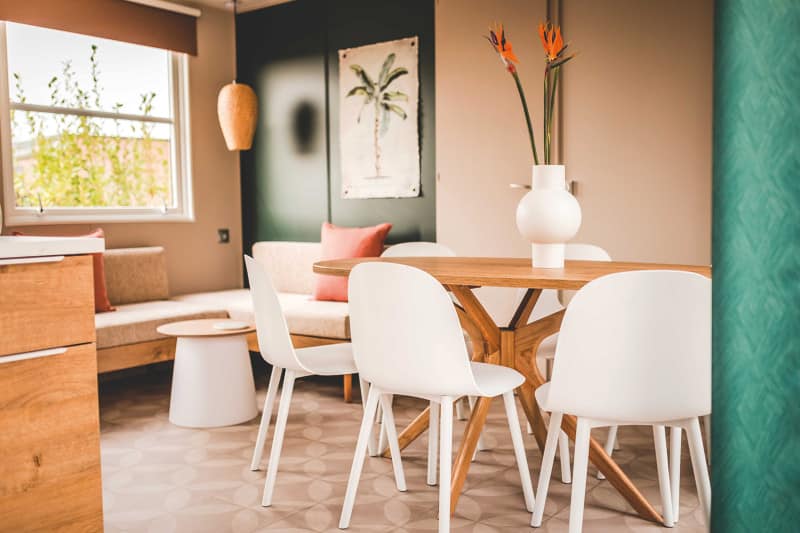 PREMIUM RANGE
6 | 3 | 2
This large model is the top-of-the-range asset in our rental fleet. It offers indisputable benefits for a successful stay: comfort, XXL space, brightness, summer kitchen open to the outside, privacy of its large master suite.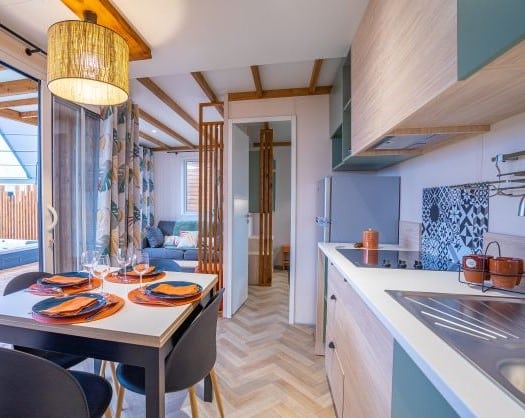 PREMIUM RANGE
4 | 2 | 2
Contemporary chalet, which differs from mobile homes, with its decoration and its small lounge area separated from the kitchen and living room.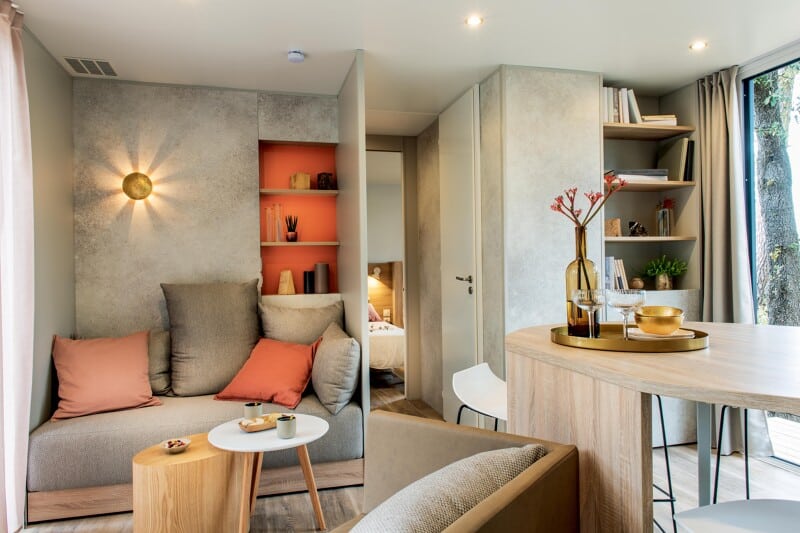 VIP RANGE
6 | 3 | 2
KEY WEST, Modern and high quality furnishings and equipment. For your comfort, they are equipped with a gas grill, Nespresso coffee machine, sun lounger… All you have to do is enjoy this magical place!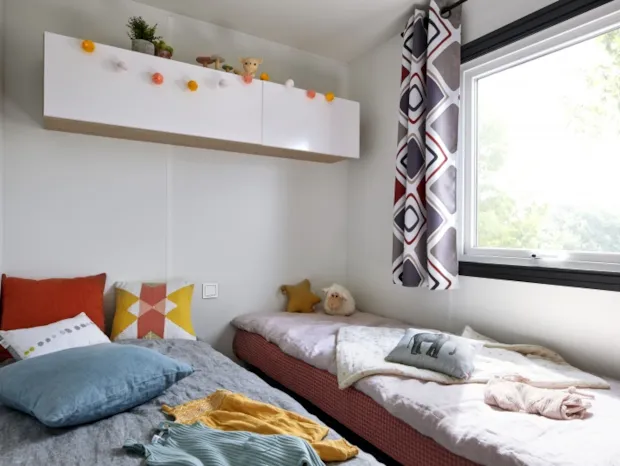 GRAND CONFORT RANGE
4 | 2 | 1
New for 2024: 2-bedroom mobile home, more compact, smaller inside and out but just as comfortable. If you're looking for a price with a comfort range for two people or young children, this new model is for you. Top of the range for small budgets!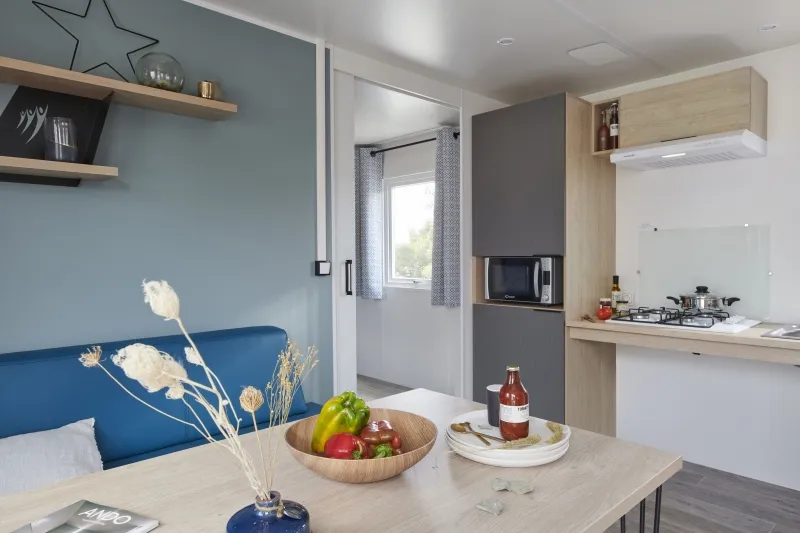 REDUCED MOBILITY RANGE
4 | 2 | 1
Mobil Home Agriate: New for 2024: This model is specially designed to accommodate people with reduced mobility, with all rooms wheelchair accessible. It is also suitable for families with young children (bunk beds with a 70cm bed and an 80cm bed).
Mobile homes in Haute-Corse located between sea and mountains
Each accommodation has a shaded pitch between the sea and the mountains. Situated in a natural setting, the beach is only 1 kilometre walk from our campsite. If you like hiking and family outings, you can take a leisurely stroll along the Mediterranean Sea. You will also have the opportunity to spend simple, quiet moments with your family at our Corsican campsite in our aquatic area dedicated to relaxation.
Fully equipped and comfortable mobile homes in Corsica
Our mobile home rentals in North Corsica (2 to 3 bedrooms) are designed and equipped for your well-being. Our quality rentals provide you with all the comfort you need during your holiday. Parents, children, grandparents and grandchildren, you will discover with your family the charm of authentic Corsica, its conviviality and its activities, while enjoying our top of the range mobile homes.